Every children's book requires illustrations to portray the stories and messages in a more engaging manner. When you explore various children's book illustration styles, you will find that there is no limit to creativity in this field. Human minds can imagine things uniquely without having any limits.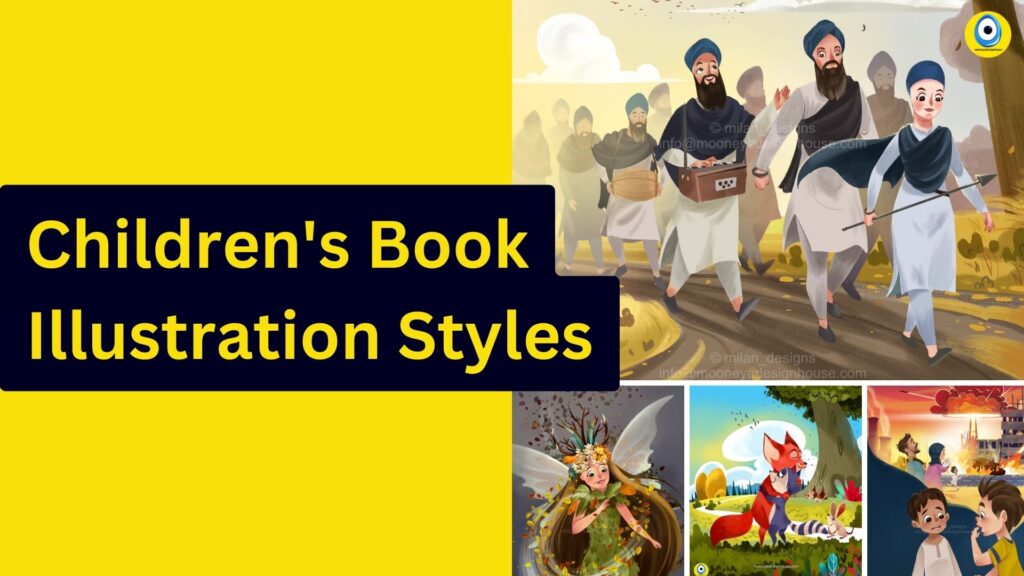 A person good at imagining things will have a clear vision and kind heart. So, illustrations contribute in brain development for kids. At the same time, graphics and cartoon characters in the books leave a positive psychological benefit on a kid's mind.
Types of Children's Book Illustrations
Book publishers can customize the illustrations on their book according to their requirements. The illustrations depend on the stories and poems that are shared in a book. In many cases, illustrators build a special cartoon character for storytelling. In some books, vintage illustrations have been used to help kids understand the stories better.
A professional children's book illustrator uses different types of concepts and styles. In the following section, you can find a guide on those styles.
1. Cartoonish Illustration Style
The cartoonish illustration style is the most popular trend among the best children's book illustrators. Youngsters connect to the cartoon characters easily, and cartoonish characters often encourage them to explore the imaginative world. As a result, cartoonish characters featured on the books can improve the imaginative power and creativity among kids.
2. Realistic Illustration Style
The realistic illustration style is closer to the reality. Such illustrations can depict stories that are closer to the reality. Helping kids to understand various social issues to build empathy towards others is a critical learning process. The realistic illustration style often helps building such empathetic connections with the stories or poems.
3. Whimsical Illustration Style
The whimsical illustration style, also known as fantasy or wondrous illustration style, is another trending illustration style for children's books. Many publishers look for the illustrators, who have mastered specialized skills in crafting whimsical illustrations. Whimsical illustration is opposite to the realistic illustration, as this illustration style takes the book readers into the world of fantasy.
4. Line Drawing Illustration Style
The line drawing illustration is a simple illustration style for children's books. Such illustrations are mostly used to provide an interactive learning experience to kids. The readers can read stories and colorize the illustrations according to their imaginations.
5. Sketch Illustration Style
The sketch illustration style is popular among illustrations for a long time. Besides children's books, the illustration style can be commonly observed on other books and magazines. Sketch illustration is an answer to the how to illustrate a children's book. Such illustrations help visualize complex scenes in stories or poems.
Bottom Line
So, these are some popular illustration styles that you should know. Book publishers and self-publishing authors must find professional illustrators to add visual illustrations to the books. Before you hire an illustrator for a children's book, you must check online reviews, experience, portfolio, and other details.